Korbell Plus Nappy Bin - 26L
Convenient, Double sealed, Safe and Odour-Free Nappy Disposal, Korbell® is the right choice for you.

Carton: 2 Units

Nappy Bin Refills – Strong, Economical,
Easy-to-Use, and Eco-Friendly Too!
Korbell's powder-scented nappy bin liners are both sturdy and stretch-resistant to securely hold your dirty nappies without breaking, tearing or falling apart.
Economical Refill System
With Korbell you're not wasting liner material individually wrapping each nappy. Plus, Korbell's unique continuous liner system gives you the ability to create bags of any size – so there's also no waste if you want to empty the unit before it's full.
Convenient Hands-Free Operation
No need to take both of your hands off of baby so you can insert, twist or push a dirty nappy into the pail. With Korbell you simply step on the pedal to open the lid and then drop the diaper through the trap door. Your hands never touch the unit!
Keeps Room Smelling Fresh
A double-sealing system keeps odours inside the pail, while the powder-scented refills provide extra odour protection. The result: your baby's nursery will smell clean and fresh.
Environmentally Friendly
Korbell's liners are flexible and strong – as well as 100% biodegradable in landfills and made with 20% recycled materials. It's the most environmentally-friendly nappy disposal system available!
Converts To Traditional Bin
When your baby is finally out of nappies, you can remove the nappy insert to use the Korbell as a stylish trash bin. It's great for any room of the house. Extending its use makes Korbell ideal for the environment and your budget.
Completely Childproof
Need to keep the dirty nappies away from a toddler's curious little fingers? Each Korbell features a button to childproof the lid, a knob to childproof the trap door, and a childproof cutter for cutting the full bags from the continuous liner.
Durable and Hygienic
Korbell is made from heavy-duty ABS plastic, which is extremely durable, very easy to clean, and wholly resistant to odours. In contrast, other nappy pails are made of polypropylene, a less long-lasting material that is easily permeated by unpleasant smells.
Refills:
Korbell Plus 3 Refill Pack
Code: 1545
More Information
Specifications

Ideal for day care centres, homes with multiple babies in nappies, or light adult incontinence
Holds up to 60 newborn nappies before requires emptying
Each refill contains enough liner material to dispose of up to 580 newborn nappies
Extremely economical refills
Constructed of durable, hygienic, odour-resistant ABS plastic
Korbell's liners are 100% biodegradable in landfills and made with 20% recycled materials
Fewer liners needed than other bins due to no twisting of plastic

Dimensions: 34 × 24 × 57 cm (W × D × H) (13½×9½×22¾ Inches)

Awards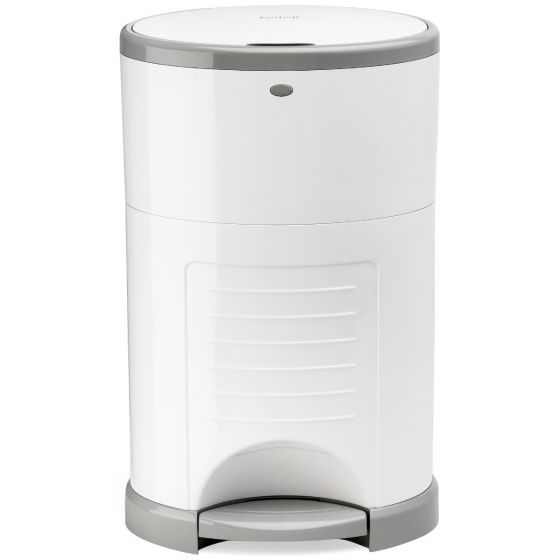 We found other products you might like!