This playful pup makes a great first companion! Baby can hear Pupsqueak "bark" when his nose is touched, and rattle sounds when shaken. He is soft and cuddly and features bright colours and contrast patterns that help stimulate visual perception.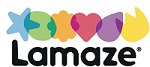 Baby can discover surprise crinkles and Pupsqueak's bone on his rope. Pupsqueak includes a multi-purpose clip, designed to clip on to strollers or changing bags so he can travel everywhere with you.
Lamaze brings moments to treasure for babies and parents; encouraging together time and independent daily discoveries. More Information
Awards
-
Specifications

A baby's pet friend Pupsqueak, suitable from birth.
Press Pupsqueak's nose to hear him 'bark' to baby.
Baby delights in discovering squeaks, clinks and rattles.
Bright colours and patterns keep baby engaged.
Easily clips anywhere, for play at home or on the go.