Little Bamboo Muslin Wrap 3Pk
Little Bamboo's generously-sized Baby Muslin Swaddle Blankets are not only a baby's best friend, but are eco-friendly too! Made with 100% bamboo, these silky-smooth swaddling wraps are perfect for your baby's sensitive skin. Bamboo fibre has the added bonus of being more water absorbent and breathable than regular cotton and further boasts superior temperature control capabilities, meaning it's cooling on those hot, humid nights and a great base to keep baby warm and snug during the cold winter nights.
Muslin swaddling blankets are a versatile nursery favourite with oodles of uses, including a lightweight blanket, towel, burp cloth and change mat just to name a few.
Bringing together 40 years of history and innovation, Little Bamboo is one of the most popular and long-standing ranges of bamboo baby textiles in Australia. They are designed to perform as well if not better than cotton. But unlike regular cotton, bamboo is a renewable man-made - but natural - fibre that is organically grown without pesticides and little to no water.
More Information
Awards
-
Specifications

Generous size 120 cm x 120 cm (47" x 47") per wrap

Composition: 100% bamboo rayon




-Open weave and bamboo fibre makes it more breathable than cotton - happy baby
-Beautifully soft and silk-like – increases comfort
-Warmer in winter and cooler in summer - comfy baby
-Extremely versatile with oodles of uses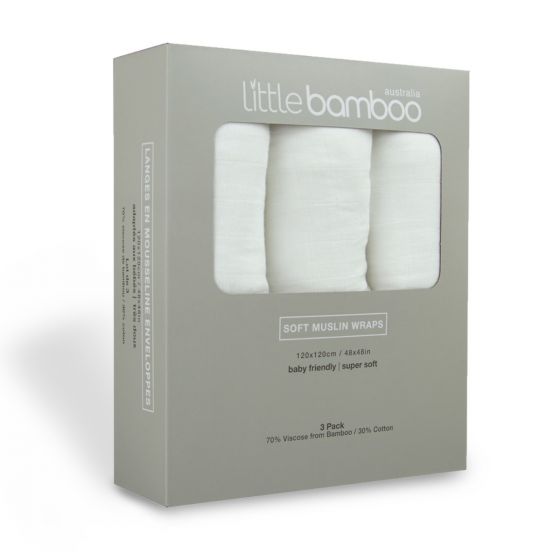 We found other products you might like!