The Alphabet Puzzle by Classic World is the ultimate learning tool for little ones learning to recognise, recite, and write their ABCs.
Beneath the letter pieces, the puzzle board features 26 cute animals beginning with each letter of the alphabet (a picture and the corresponding word). This supports a child's vocabulary development and helps them to associate letters with their phonetic sounds in words. 
24 per carton. The reveal of the hidden animal picture and word allow for the gamification of the puzzle, with a guessing game to start with and a memory game once the child is familiar with the animals. Other game ideas could be to guess the letter while blindfolded, either tracing the shape of the puzzle piece or the inset shape on the puzzle board. A learning activity this could lead on to is tracing the arrow lines illustrated on each letter piece, which indicate how to correctly handwrite the letters. Eventually, little learners could handwrite each letter of the alphabet independently and by memory.
Learning Outcomes: Helps children develop their knowledge of the alphabet, including how to handwrite each letter; expands a child's vocabulary by introducing 26 different animals.
More Information
Care Instructions

Care Instructions: Do not use chemical-based cleaning products or wash wooden toys directly in water.

Safety Instructions: Do not give toys with small parts unsupervised to children under the age of 3 or who still place items in their mouth.

Awards
-
Specifications

| | |
| --- | --- |
| AGE | 2+ Years |
| MATERIAL | Natural Wood |
| DIMENSIONS | 30 x 30 x 0.8cm |
| CONTENTS | 27 pc |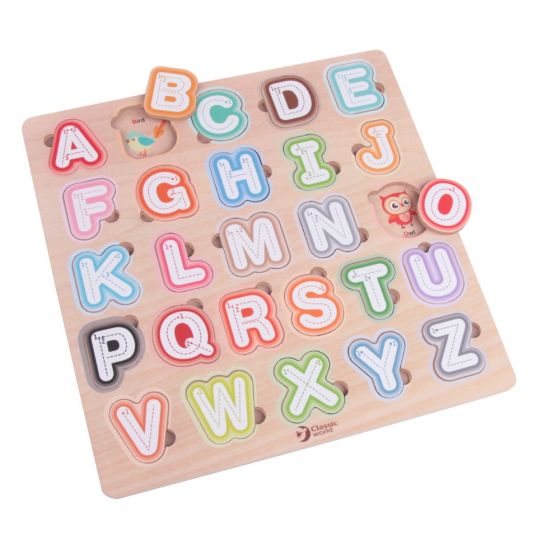 We found other products you might like!