5 in 1 Blackboard/Whiteboard
The 5 in 1 Blackboard/Whiteboard is a great learning tool for creative and kinesthetic learners. 
This versatile board has a blackboard on one side and a whiteboard on the other, and it can also function like a painter's easel with the large clip to secure paper during painting or drawing sessions. Other practical features include four paint containers, a convenient tray to hold supplies, and chalk.
Two items per carton. Learning Outcomes: Helps children develop their creative abilities, such as drawing and painting; can also be used to support a child's educational development, as kinesthetic learners can use the whiteboard/blackboard to explore and practise all kinds of learning concepts; may inspire roleplay scenarios of a school setting, promoting imaginative thinking and enhancing a child's understanding of the world.
More Information
Care Instructions

Care Instructions: Do not use chemical-based cleaning products or wash wooden toys directly in water.

Safety Instructions: Do not give toys with small parts unsupervised to children under the age of 3 or who still place items in their mouth.

Awards
-
Specifications

AGE

3+ Years 

MATERIAL

Pinewood

DIMENSIONS

58 x 63 x 113 cm when in use

(To store flat, unscrew the tray and fold)

Board Size

52 x 52cm

CONTENTS

20 pc

Contents include:

Easel with blackboard surface on one side and a magnetic whiteboard surface, with a paper clip, on the other side
Wooden tray for supplies, featuring four paint pot slots
Four mini paint pots
Five coloured chalk sticks and five white chalk sticks
Duster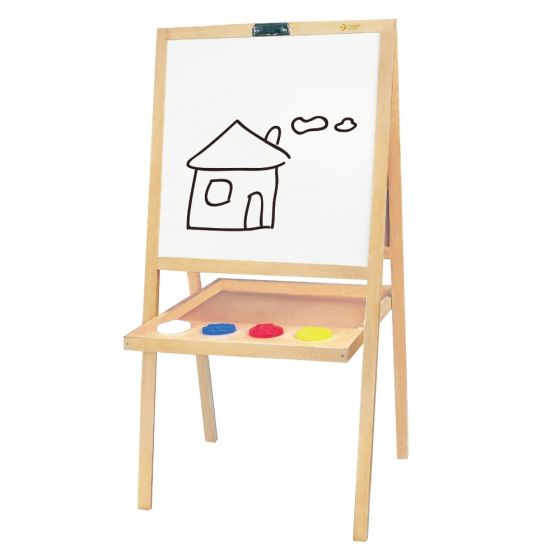 We found other products you might like!