The John Deere Big Scoop Excavator is the perfect childhood yard toy.
Made out of extra-durable plastic, and with oversize wheels, for any terrain. Coloured in the famous green and yellow that John Deere is known by, this toy sports an easy to handle, handled grip for scooping needs. Your child will be able to scoop up anything that they can imagine and load it into the back of their John Deere dump truck.
Carton/box contains two
Please purchase in 2's

Deere & Company began when John Deere, born in Rutland, Vermont, USA on February 7, 1804, moved to Grand Detour, Illinois in 1836 in order to escape bankruptcy in Vermont. Already an established blacksmith, Deere opened a 1,378 square feet (128 m2) shop in Grand Detour in 1837 which allowed him to serve as a general repairman in the village, as well as a manufacturer of small tools such as pitchforks and shovels. Small tools was just a start, the item that set him apart, was the self-scouring steel plow, which was pioneered in 1837 when John Deere fashioned a Scottish steel saw blade into a plow. Prior to Deere's steel plow, most farmers used iron or wooden plows which stuck to the rich Midwestern soil and had to be cleaned frequently. The smooth sided steel plow solved this problem, and greatly aided migration into the American Great Plains in the 19th and early 20th century.
Suitable for ages 3 & up
More Information
Awards
-
Specifications

Aged 3 and up
Toy Size: 38cm

BOX DIMENSIONS (MM)

407x240x210

Licenced John Deer Office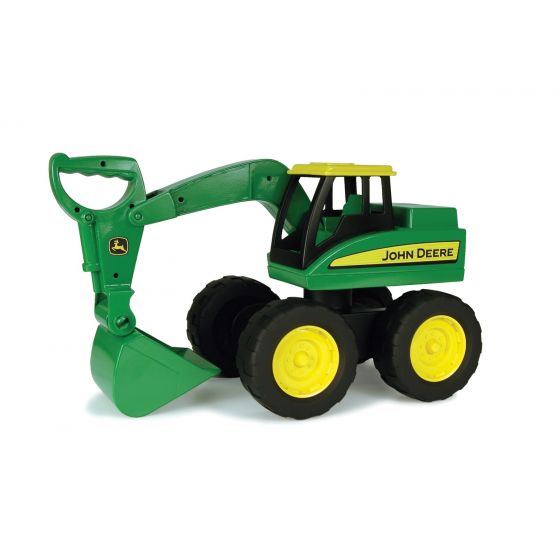 We found other products you might like!