LED Colour Me Night Light (USB/Battery) - Princess
This Aloka Sleepy Light ColourMe Night Light provides just enough light to those children who are afraid of the dark, helping to calm and settle them. It also allows parents to easily and quietly see and check on their child without disturbing them, and provides older children with enough light for them to make their own way to the bathroom during the night.
These colourful night lights have been designed by a parent for parents, and with fun designs and features for children too!
This Night Light comes in the shape of a pretty princess that both you and your child will love!! Aloka Colour Me Lamps are a 5V LED lamp with numerous amazing features such as an interactive remote control with 13 colour options, optional timer, sleep setting, rainbow setting and reading light setting. The lamp can be powered by both 3 X AA batteries as well as a micro USB cord and the functions can also be used by pressing the buttons on the base of the light.
The Aloka Colour me range comes complete with 8 specialised textas that can be used to colour in the design printed onto the Acrylic section of the light and a small cleaning cloth. The textas have been designed to give a solid colour and the best colouring quality possible. The Aloka Colour me range takes the Aloka Sleepy Light with all its amazing features and top safety specifications and makes it an interactive and personalisable gift idea!
This model features dual power supply - Aloka Sleepy Light can be run off 3 x AA Batteries (included) or plugged in to a power source using a micro USB cord.
More Information
Specifications

Features :

Little ones can choose a favourite colour for the night, or rotate through all 13 colours.
Multiple brightness levels - up to 4 levels of brightness
Safe low voltage (5 volts), low heat LEDs - little fingers cannot get burnt
LED light runs off USB or battery. Note, only demo batteries and USB cable is included. No power supply included.
In battery mode, night light will automatically turn off after 20 to 40 minutes to conserve battery power (20 minutes in rainbow or side lamp mode; 40 minutes in timer and sleep mode).
If plugged into USB power, night light can stay on all night or can use timer function to turn off after a period of time.
Remote control functions :

Colour selection
Brightness level (4 levels of brightness for each colour)
Side lamp button which activates pure white at the brightest level
Autofade mode - auto lowers brightness to low levels perfect for sleeping
Timer which turns the night light off after a period of time

Base button functions :

on/off button
colour changing button and brightness control

Size :

Dimensions of overall night light: Approximately 23cm (H) x 13cm (W), depending on design, a few designs like race car are a lot shorter.
Dimensions of base : 2.7cm (H) x 13cm (W) x 3.5cm (D)




Contents include:

Acrylic upright design
8 x specialised ColourMe pens (including 1 x white for writing names)
Small micro-fiber cleaning cloth
Battery operated base with buttons
3 X AA Batteries
Remote Control including CR2025 battery (battery is secured by safety latch and screw)
LED Night Light battery mode requires 3 x AAA batteries (demo batteries included)
USB cable (cable included only, no power supply - plugs into any 5v USB power supply)
Instruction Manual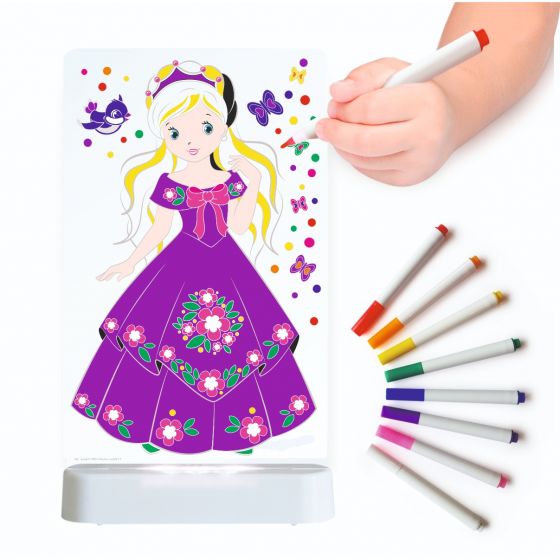 We found other products you might like!