LÍLLÉbaby COMPLETE Baby Carrier, SeatMe, Frosted Rose
The LILLEbaby SeatMe hip seat carrier is a multi-functional baby carrier with an integral firm and padded shelf seat for the child to sit on. The shelf-seat supports baby's hips and makes it easy to position baby's hips in a correctly supported position. The unique seat design allows adjustment to the depth of the seat to ensure babies of various sizes are positioned close to the parent for safety, comfort and reduced leveraged weight. By simply removing the torso, you may use the platform seat and belt separately to assist in holding your baby. This ideal for comfortably rocking your baby to sleep, holding her when she is upset or when an active baby wants to be held for shorter periods of time. Instead of twisting the spine like you normally would when holding baby on hip, the parent's back stays straight and the belt distributes baby's weight around your waist.
This multifunctional carrier can also convert to a soft structure carrier. The ridged shelf seat insert can be removed and easily converts the carrier to a regular soft structure carrier.

The IHDI has certified the LILLEbaby COMPLETE as a 'hip-healthy" product.

For Retailers and purchasing please click here

More Information
Specifications

1. Multiple carrying positions – The Seat Me grows with your child through all the baby wearing years, from 5.5 Kg to 20 Kg. The comfortable and ergonomic for baby large, cushioned 3D Platform seat, is removable and can be carried - front-inward and front-outward (with or with-out panel), and hip and back (with panel).

2. Lumbar support – Increases comfort, maintains healthy posture and alignment, and prevents lower back strain. Combined with an extra sturdy waist belt to maximize parent's comfort.

3. Two-way strap - Enable wearer to carry "backpack style" or with straps crossed in the back. Dual adjustment buckles simplify breastfeeding and adjusting straps on the go.

4. Sleeping Hood - Features dual adjustment points to provide tailored support for baby's head while sleeping, sun protection while exploring, and privacy while nursing. Removable.

5. Extra tall, extendable torso - So comfortable your baby will fall asleep. Provides extra neck and back support and keeps taller babies secure in the carrier. The adjustable width gently cradles baby's head. Elastic straps provide support while allowing for movement and easy adjustment.

6. Pockets - Large zippered storage pocket, plus easy-reach pocket for storing hood and essentials.


7. Wide, padded shoulder straps & waist belt - Evenly distribute baby's weight for maximized comfort.

FAQ's:

Can you breastfeed in the LILLEbaby COMPLETE?
Yes. In order to have the optimal experience we suggest that you play around with the different positions to see what works best for you. We recommend practicing at home a few times in front of a mirror in order to get the hang of it. Wearing a nursing shirt may also be helpful but is definitely not necessary since you can cover up with the hood or the neck support of the lillebaby carrier to ensure privacy. Use extra caution when nursing in your carrier to ensure that baby has a clear airway. Be sure to reposition your baby to a more upright positioning after nursing.

Can I babywear while exercising?
Yes. Once your doctor clears you for exercise, you may want to include your baby. Power walking should be fine when baby is at least 6 months and have developed strong neck muscles. Never jog with a baby carrier. Always bend in the knees. Never lean forward.

Care Instructions

Machine Washable
The líllébaby® SEATME™ baby carrier is machine washable, but spot cleaning or hand washing is always preferred to extend the life of most baby gear. When needed, machine wash separately on cold with mild detergent on delicate cycle. Do not use bleach or fabric softener. Air-dry. Do not iron. Before washing, connect all buckles and tighten the webbing and remove seat.

 

Awards
-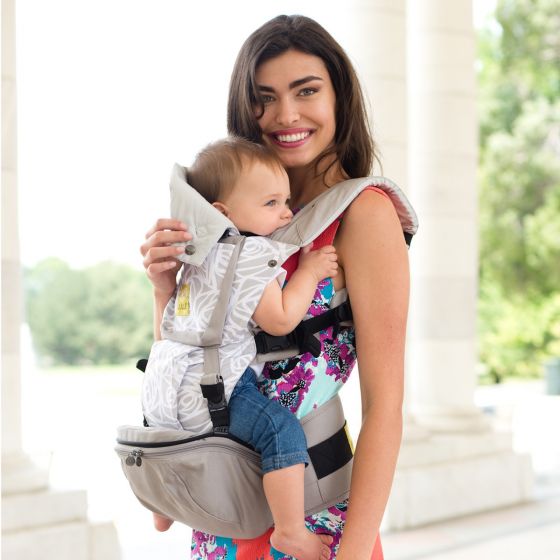 We found other products you might like!