Silicone Pouch Bottle 3PK Pink
INNOVATION. SUCK ON THAT.
It's the best thing to happen to feeding since nipples. The revolutionary air-free feeding design of our NURSH™ Silicone Pouch Bottle feature a 100% silicone pouch that collapses as your little one drinks, squeezing out the nasty gas-inducing air that causes colic. No straws, vents or valves here—so it's a snap to clean and assemble. The silicone can even be boiled, sterilized, microwaved, and frozen. Boobs, you've met your match. AIR-FREE FEEDING | SAFETY OF SILICONE | MODELLED AFTER MUM | EASY CLEAN-UP More Information
Care Instructions

Just a few easy steps: The fewer parts there are, the easier it is to clean. With minimal pieces, NURSH makes cleaning and assembly a snap. The silicone milk pouch can be flipped inside out for easy washing and drying and can also be boiled, sterilized, microwaved and frozen. Don't try that with a glass bottle.

Awards
-
Specifications

AIR-FREE FEEDING: Silicone pouch collapses as baby drinks without complicated straws, valves, or vents
SAFETY OF SILICONE: The only thing your milk comes in contact with is 100% silicone
MODELED AFTER MOM: Optimal nipple shape and length for a perfect latch
SIMPLE CLEAN UP: With minimal pieces, cleaning and assembly are a snap
INCLUDES: 3 shells, 3 nipples, 3 collars, 3 silicone pouches, and 3 caps
4oz Bottles Include Stage 1 Nipples - Slow
8oz Bottles Include Stage 2 Nipples - Medium
Additional teats and pouches sold separately
Made without BPA or PVC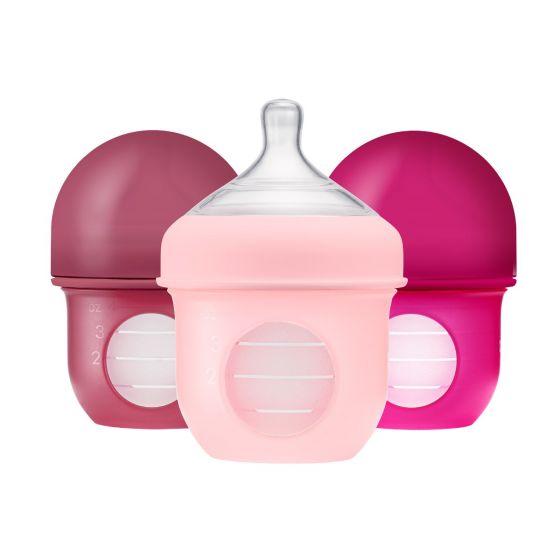 We found other products you might like!