Essentials Original Park Place
LÍLLÉbaby Essentials Original
When all you need are the essentials, our new Essentials carrier has you covered. This classically constructed 4-position carrier, made from our softest, most durable cotton, is the perfect addition to any baby carrier collection - designed for adventure, crafted with style, and yours to keep on hand, in the car, on the go, wherever you go. Parenthood is a journey - keep the Essentials handy. The LÍLLÉbaby ESSENTIALS baby carrier combines the basics of babywearing with LILLEbaby's signature commitment to quality and style.  This simplified carrier design is a beautiful compliment to our COMPLETE collection, for those who prefer to keep a variety of carriers on hand or prefer the classic 4-position carrier construction.
FOUR ERGONOMIC CARRYING POSITIONS -  The ESSENTIALS provides four carrying options - Front - Infant (with the addition of the infant insert), Front – Facing In, Hip, and Back. The ESSENTIALS is recommended for children 6.8 - 15.8kgs (15lbs-45lbs).  With the addition of the infant insert it is approved for use from 3-15.8kgs (7lbs-45lbs)." The IHDI has certified the LILLEbaby COMPLETE as a 'hip-healthy" product.

For Retailers and purchasing please click here

More Information
Specifications

1. PERFECT FIT ADJUSTERS (NEW!) - The ESSENTIALS is outfitted with Perfect Fit Adjusters, or PFAs, which allow the wearer to adjust the length of the shoulder straps and positioning of the carrier panel to achieve a truly customized fit.

2. TWO WAY STRAP - Our two-way adjustable straps enable wearers to carry "backpack style" or with straps crossed in the back. Dual adjustment buckles simplify breastfeeding and adjusting straps on the go.

3. SLEEPING HOOD - The ESSENTIALS all-weather sleeping hood is constructed from a soft, breathable mesh, which provides excellent air flow for your sleeping baby and improved visibility for parents.

4. POCKETS - Our large zippered storage pocket offers ample storage space for all your other essentials, and the easy-reach pocket is ideal for storing the hood when not in use.

 

How does the ESSENTIALS compare to the COMPLETE?

The ESSENTIALS was designed to offer the best solution in the more simplified, traditional soft structured carrier category. It features 4 carrying positions (with the optional infant insert launching in January) and includes different features than the COMPLETE. 

What are the weight limits? 
The ESSENTIALS is recommended for children 6.8 - 15.8kgs (15lbs-45lbs).  With the addition of the infant insert, it is approved for use from 3-15.8kgs (7lbs-45lbs).

Why is it cheaper than the LÍLLÉbaby carriers?
The ESSENTIALS is made with high end fabric and material, but with fewer whistles and bells, it is simply less expensive to make than the COMPLETE.

 

Designed in the USA, manufactured in China.
Buckles: Premium quality and UTX buckles.
Webbing straps: Premium quality nylon.
Includes Safety Harness for added safety and security.
Stitching: Reinforced at all fabric intersections for extra durability and tested to meet or exceed load performance standards.
- CPSIA compliant
- JPMA Safety Certificated
- Conforms to ASTM F2236 Safety Standards
- Conforms to the European standard EN13209-2:2005
- Conforms to KC mark standard
- Multiple ISO certifications
- Factory conforms to social accountability standards
- Packaging and ink are tested for their decomposability performance in landfills

Care Instructions

Machine Washable
The líllébaby baby carrier is machine washable, but spot cleaning or hand washing is always preferred to extend the life of most baby gear. When needed, machine wash separately on cold with mild detergent on delicate cycle. Do not use bleach or fabric softener. Air-dry. Do not iron. Before washing, connect all buckles and tighten the webbing.

Awards
-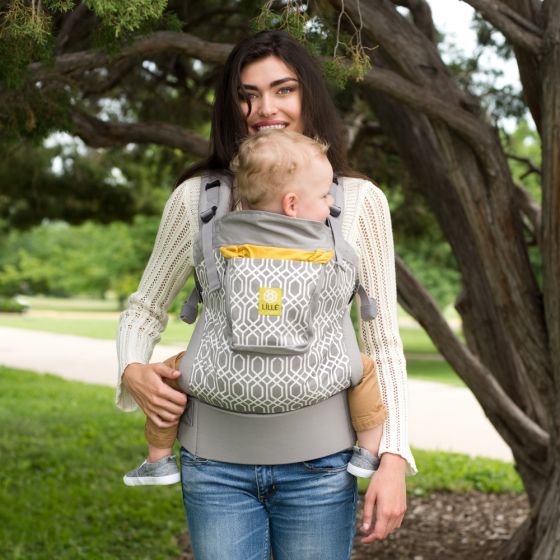 We found other products you might like!