Doodle Bear Unicorn Clip On
The Original Doodle Bear™ is back and better than ever! These cute clip-on toys love to be decorated…and taken along for the ride! Each stuffed toy includes a Doodle Mini Marker that lets kids set their inner artist free as they create oodles of doodles on their new friend
Then pop in the wash for a quick wash and the markers wash right off!
But now there's even more to do! Download the free Doodle Bear Studio App and take a picture to bring your Doodle to life! Customize the background with cute preloaded stickers, or use the pencil tool to create your own fun drawings. You can even record a message. Try your normal voice, or choose an effect to make yourself sound funny! When ready, save the finished project and share your favorite Doodles with friends. Done for the day? Just like the original Doodle Bear, parents can safely wash any Doodle Bear so that the fun can start all over again. Doodle. Wash. Doodle again!  What will you Doodle today?

Easy to wash in your washing machine.
Download Doodle Bear Studios for even more fun with your toy
Easy to clip onto buggies or other objects for your little friend to join in the journey
More Information
Specifications

DECORATE, ANIMATE, SHARE! The Original Doodle Bear is back and better than ever, with new characters, new sizes, and even more to do!
FREE COMPANION APP | Snap a picture of your creation and then customize your Doodle Bear Unicorn's background, you can even record a message!
SHARE WITH FRIENDS | Your Doodle Bear Clip-on Unicorn is now animated and you can save your creation to the phone's camera roll to share with friends
DOODLE MARKERS INCLUDED! This adorable stuffed clip-on comes with a washable mini marker included – marker sets with more colors are available (sold separately)
DOODLE. WASH. DOODLE AGAIN! Doodle Bear is machine washable and dryer safe, so you can create oodles of doodles – again and again!
ON-THE-GO FUN | Clip-on Doodle Bears are perfect for attaching to a backpack and taking along for the ride

Awards
-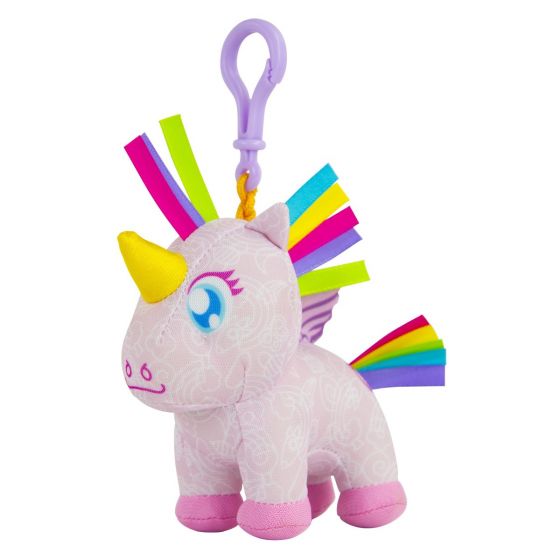 We found other products you might like!