The CharliChair is not a baby bath tub but a baby shower chair. Have you struggled with the everyday kneeling and bending over a bath tub that is just not close enough or high enough? Well here's your answer. The CharliChair allows you the convenience of the three level height adjustment for yourself and the multi-position recline for your baby. With the CharliChair your child will grow loving the shower as they will be accustomed to it from birth.
Features:
- Nonslip seat surface and rubber feet
- Corrosion protected legs
- 5 point adjustable safety harness
- No water build up
- And it is suitable from newborn upto 17kg.
- Multi-position recline
- 3 level height adjustment

More Information
Specifications

Dimensions

Max Height: 98cm
Min Height: 83cm
Width: 45cm
Breadth: 56cm

Safety

Fully safety-tested meets all Australian, European and US safety standards

Five-point adjustable safety harness keeps baby safe while still letting you wash backs and bums

Rust-proof corrosion-protected legs




Portable at just 5kg, you can take CharliChair everywhere

Suitable for ages/sizes from newborn up to 17kg

Three-level height adjustment between 83cm and 93cm

Multi-position recline

Works with adjustable and fixed shower heads

Comfortably fits shower bases as small as the size of 90cmx 90cm




No sore knees or backache from bending, kneeling or lifting

Ideal if youve had back problems or a c-section

Lets you and baby bathe together for a stronger bonding experience

Easier to bathe reluctant toddlers and children with disabilities

Great for asthmatic babies who benefit from shower steam

Perfect for infant bathing in places with no bath tub

Encourages kids to love showers right from birth

Quicker and uses less water - so you save time, money, and the environment

Awards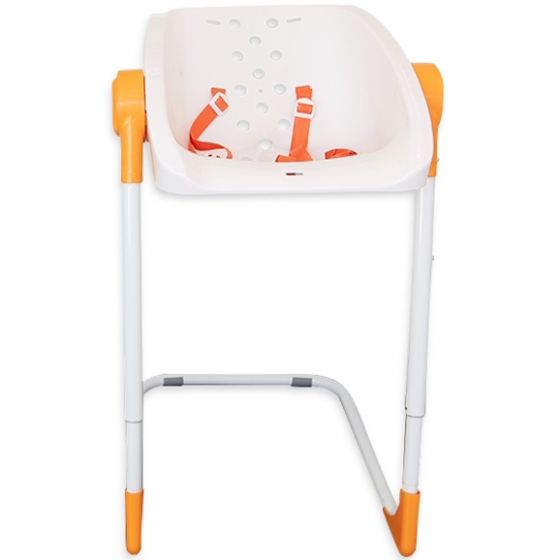 We found other products you might like!